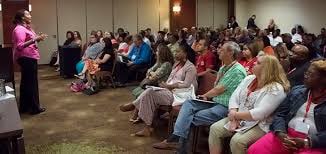 In lieu of an in-person conference due to the COVID-19 pandemic, the American Probation and Parole Association will host its 45th Annual Training Institute virtually this year. The online event will span five days, beginning with an open session on Aug. 24, followed by three days of intensive workshops and a closing session on Friday, Aug. 28.
In all, the conference includes more than 50 workshops covering all things community supervision, ranging from reentry to diversity, technology, racial justice, the pandemic and more. In addition, several general sessions and panels will be delivered, including:
Racial Justice Town Hall Meeting led by Erika Preuitt, Director, Multnomah Dept. of Community Justice
Trusted Relationships that Transform Communities, led by Ana M. Bermúdez, Commissioner, NYC Dept. of Probation
The Foundation and Practical Application of Risk, Need, and Responsivity
A highlight, and back by popular interest, in STRAIGHT TALK formerly incarcerated individuals will discuss supervision and justice reform in a 90-minute session with convicted felons who have turned their lives around. New York Times Bestselling Author of COOKED and formerly incarcerated citizen, Chef Jeff Henderson, will moderate a provocative and informative conversation on issues that impact the formerly incarcerated population. Henderson was arrested in 1988 at age of 24 for conspiracy with the intent to distribute drugs. He served most of his 10-year sentence in the Terminal Island Federal Prison in Los Angeles. While in prison, he became a kitchen cook and found his calling. This session will discuss barriers to reentry, employment and housing challenges, fines and fees, and problems accessing medical and health services.
See the full agenda and descriptions of the workshops and sessions.
GEO Care is a proud sponsor of the American Probation and Parole Association.