In honor of national Second Chance Month, reentry service providers around the country are organizing and participating in events to celebrate program participants and invite community members to learn more about the importance of reentry services. Throughout the month of April, multiple GEO Reentry Services locations will host transition ceremonies, open house events and community outreach efforts to connect and educate members of the public about the needs of offenders and the benefits of reentry services.
Second Chance Month is an annual awareness initiative recognized in April by policymakers, corrections staff and leaders in criminal justice to shed a light on the reverberating challenges incarceration brings to individuals transitioning back to their communities. According to the National Reentry Resource Center, the initiative was created to highlight reentry efforts outlined in the Second Chance Act of 2007, which was signed into law by former President George W. Bush in 2008. The first nationally recognized awareness campaign in 2016, National Reentry Week, saw more than 550 reentry-focused events and was expanded to an annual, month-long initiative in 2017.
In an official statement on March 30, 2019, the White House describes the mission of national Second Chance Month and highlights the administration's commitment to supporting former inmates:
"This month, we celebrate those who have exited the prison system and successfully reentered society and renew our commitment to providing support and resources that former inmates need to meet their responsibilities, rediscover their self‑worth, and benefit from the gift of a second chance. […] By reducing recidivism and putting former inmates on the path to success, we can reduce crime and enhance the safety of our communities."
More than a decade after the Second Chance Act garnered bipartisan support for reentry grant programs, the passage of the First Step Act in 2018 is expected to usher in "significant changes" to federal sentencing laws and promote evidence-based reentry services to "reduce recidivism and provide support" for individuals in the criminal justice center.
As a long-time leader in the implementation and expansion of evidence-based programs for the U.S. offender population, GEO Reentry Services has announced several events celebrating Second Chance Month at GEO Reentry centers throughout the U.S.
Community members and business leaders in Thibodaux, Louisiana will have an opportunity to mentor program participants during the Mentor-A-Participant Event at Thibodaux Day Reporting Center, a non-residential reentry center that recently opened in December 2018. The mentorship event aims to connect community members and former inmates at the DRC to both educate the public about the value of reentry services and give participants an opportunity to network with leaders in the community. Staff at the DRC hope the event offers participants a chance to showcase their progress and develop relationships with mentors.
"We consider this a win-win for participants and community members," said Kaylarge Eloi, Program Manager. "There are community members with so much knowledge and expertise out there, and our participants are doing the hard work and learning how to reconnect with their communities, hold down jobs, and stay crime-free."
The DRC is requesting a $25 donation from attending mentors to pledge to the Autism Society in honor of National Autism Awareness Month.
Multiple GEO Reentry service centers throughout the U.S. have planned events in recognition of Second Chance Month.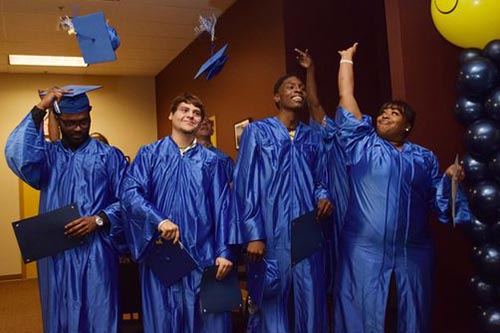 To celebrate participants who recently completed reentry programming, multiple centers will host transition ceremonies, where graduates are recognized by reentry staff, community members and county officials:
Additionally, several locations will host open house events to give community stakeholders a chance to learn more about the various resources and services at each location: