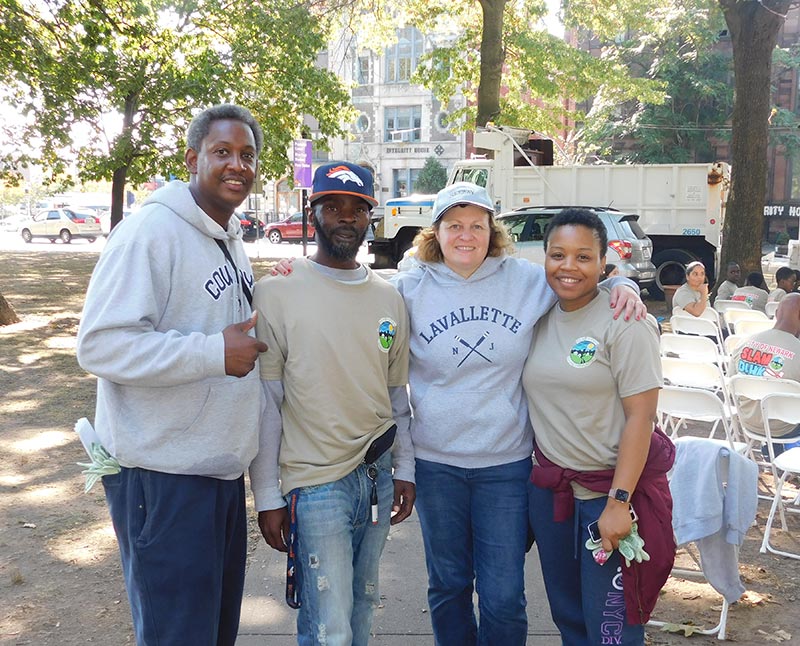 Members of the New Jersey Alumni Services and staff from New Jersey's Talbot Hall, a residential reentry program in Kearny, New Jersey, gathered to volunteer their time and effort to join the annual "Slam Dunk the Junk" cleanup in Newark, New Jersey, in October. Alumni and staff worked tirelessly sweeping and collecting trash, leaving a marked improvement in the appearance of Newark's Lincoln Park.
"We are always grateful for an opportunity to give back to the community," Arthur Townes, Director of New Jersey Alumni Services, said. "We are hoping to change the perception of the offender who is returning to society, and bring awareness to the public about the importance of reentry treatment programming. We have seen many lives changed through treatment."
Mr. Townes led the group of volunteers who worked through the day cleaning their assigned area, Lincoln Park, which is located in downtown Newark. Alumni members included Erid Bodison, Shakir Griffith, an alumnus who is now working as a unit supervisor at Talbot Hall after earning his M.S.W. from Fordham University, and others. Staff participants included Talbot Hall Director Sheila Leonardo, and Sharese Mumford, program activities coordinator at Talbot Hall.
Alumni members maintain a strong commitment to community partnerships through volunteer service. The New Jersey alumni have an excellent track record of supporting the local community with cleanups and various volunteer-related activities that are geared to improve the neighborhood, and provide an opportunity for alumni, staff and residents to give back to the community.
Read more about GEO Reentry's approach to residential reentry.