When he was first referred to the Belleville Juvenile Reentry Service Center, participant Elijah T. was resistant to the program, but ultimately persevered and achieved his goal: graduating from high school.
Due to the pandemic, Elijah received services by phone when he started at the Belleville, Illinois-based non-residential reentry center, a day reporting program for youth run by GEO Reentry Services on behalf of the Illinois Department of Juvenile Justice. Once in-person services resumed, center staff encouraged Mr. Thompson to keep an open mind and give himself a chance to reach his potential.
In April 2021, Belleville Juvenile RSC Case Managers Kimberly Kemp and Merniqua Walls learned that Elijah was failing most of his classes and was not expected to graduate unless he completed make-up assignments for each subject. Elijah was very discouraged when he saw how much work he had to complete in such a short amount of time.
But over the next two weeks, Elijah persevered, as GEO Reentry staff empowered him to complete the assignments, and Ms. Kemp worked with him every day. Elijah's willingness to commit to complete the work paid off, and he was able to graduate. Elijah's success is a testament of the strong partnership between the Illinois Department of Juvenile Justice and GEO Reentry in empowering youth released to community supervision to overcome obstacles, change criminal thinking patterns and excel in life.
The Illinois DJJ was created by statute in 2006 with the mandate of safely housing and rehabilitating youth in custody in a restorative environment that focused on learning and treatment. In recent years, the DJJ has been transitioning juveniles from its several youth detention centers to community interventions, including day reporting programs. The state now funds GEO Reentry-run juvenile day reporting centers in Belleville, Champaign, Rockford, Peoria and Chicago, and recently added another in Springfield.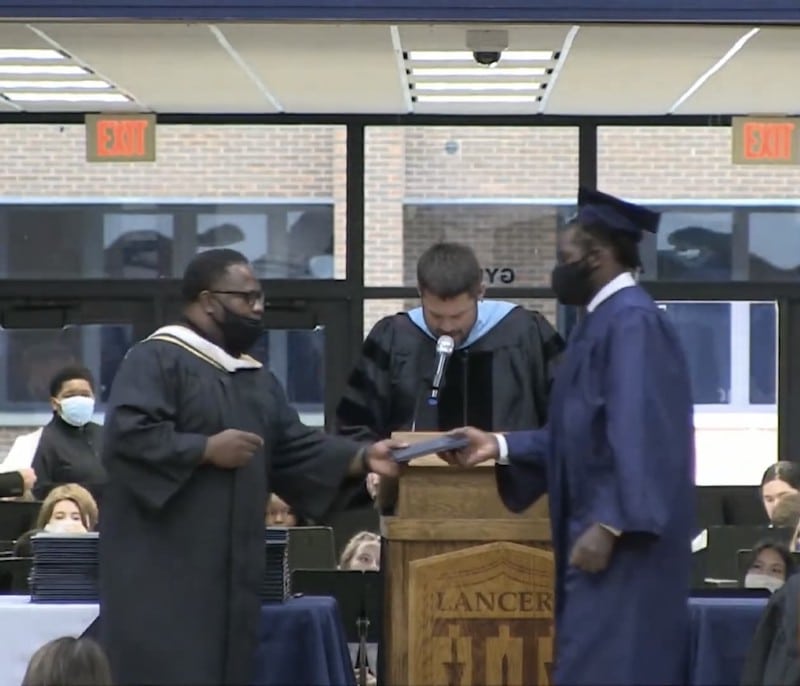 The Belleville Juvenile RSC delivers evidence-based treatment including techniques and classes proven to reduce recidivism. Participants are involved in the center's cognitive behavioral treatment program, which was developed to change criminal thinking and instill behavior change. Participants report to the center and meet with case managers to develop a behavior change plan and are monitored for drug and alcohol use. Staff also assist participants in seeking employment, vocational training and educational opportunities.
Thank you to Merniqua Walls, Juvenile Case Manager, for assistance in this article.