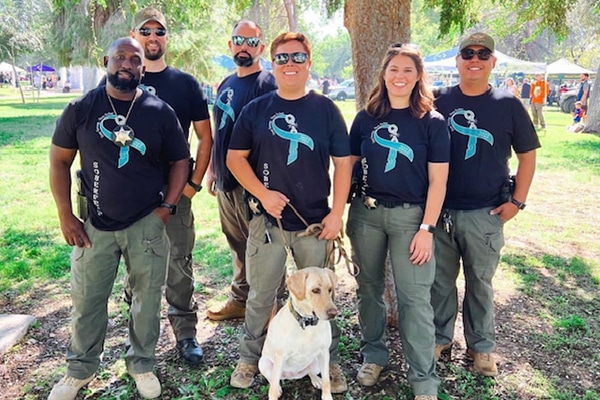 Dozens of community members turned out to Merced County's Soberfest 2022 in Courthouse Park, an annual event organized to foster a supportive, sober active community for individuals recovering from substance use. Those who attended could access free information from local resources and allies of those in recovery about housing, health services, jobs, and more. The event was organized by the Merced County Sheriff's Department, Merced County Probation Department, and GEO Reentry Services, which operates the Merced County Day Reporting Center, a non-residential reentry program and an in-jail treatment and training program for Merced County.
A celebration of life, Soberfest 2022 featured testimonials from sober community members, including Merced County Day Reporting Center participants. Many Merced County agencies and nonprofits were on hand to share information about available resources and services in the community. Merced DRC Program Manager Jennifer Fialho said she was proud of her team and DRC participants who helped organize and attend the event.
The event also featured family-friendly activities including live music, face painting, food vendors, and raffles and free prizes such as a bike giveaway for children, even free haircuts. Also, the Sheriff's Water Rescue Team and Tactical Unit, SWAT team, and K-9 Unit were on hand to meet residents.

GEO Reentry Services operates the Merced County DRC, at 3345 M Street and the county's in-custody Jail Reentry Program, located at the John Latorraca Correctional Facility.
GEO Reentry Services operates non-residential programs such as day reporting centers, in-prison treatment services, and residential reentry centers for federal, state and local correctional agencies. By combining research-based treatment and counseling services for individuals on parole, probation, pretrial, or incarcerated, GEO Reentry assists community correctional agencies with important public safety efforts.