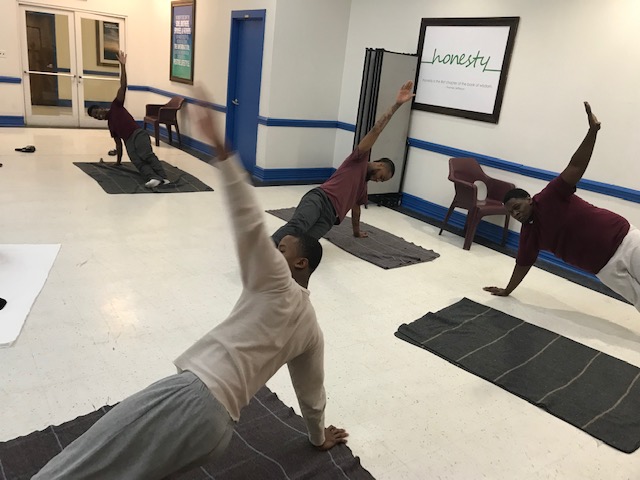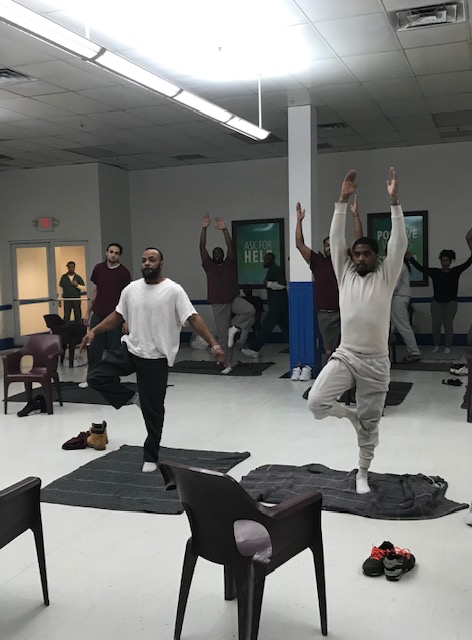 A group of 10 individuals gathered in the Lecture Hall on the Green Mile at Delaney Hall carrying blankets and wearing sweats, normally only allowed during rec time, to participate in the first Meditation and Yoga class the residential reentry center has offered since reopening. The class, led by Family Services Coordinator Kerry McCann and Marriage and Family Therapy Graduate Student Intern Alexis Giglio, is now offered every Friday and has grown in size week over week.
McCann was eager to implement meditation and mindfulness sessions long before Giglio proposed the idea a few weeks before the first session; she had wanted to offer the classes to residents at Delaney Hall in Newark, New Jersey for quite some time, but didn't have enough staff until fall 2018. Now, Giglio and McCann lead the classes, which start with 20-30 minutes of group meditation, followed by 20-40 minutes of basic yoga techniques. Afterward, residents remain in the hall for a count, or, if additional time is afforded, another cool down meditation.
During each class, the facilitators help residents improve their techniques and form. After each session, residents are asked to provide feedback on the class and talk about how they felt during the session. The participants report feeling relaxed but energized, and, while some say they feel achy or sore from maintaining the poses, almost all say they look forward to the opportunity to stretch, exercise and relax at the class each week.
The sessions also include lavender and tangerine aromatherapy to create a calming and invigorating environment. At the beginning of each lesson, residents learn about the latest research about the benefits of aromatherapy and meditation at other facilities, including San Quentin, Folsom and Walpole. Studies show inmates who practice meditation regularly have less anxiety, lower blood pressure, less stress and fewer behavioral infractions. San Quentin reports a 30 percent reduction in recidivism rates since implementing meditation at the facility. Other studies report experimental groups experienced fewer sleeping difficulties, less desire to throw things or hit people, and less nail or cuticle biting; were more hopeful about their future; and felt less guilt.
The team at Delaney Hall is working to bring these practices to every unit at the facility. Guided meditation will be available to the female unit within the next month, and both McCann and Giglio said they are looking into becoming certified in Transcendental Meditation.