In honor of Black History Month, program staff at Delaney Hall in Newark, New Jersey came up with a slate of creative activities to educate residents about Black history and its powerful message of persistence, hope and change.
During the monthlong celebration of Black excellence, Case Manager Eugene Nazareth established a letter writing campaign for residents at the residential reentry center, which is operated by GEO Reentry.
Parolees wrote encouraging notes to residents of the youth house in Essex County that detailed personal mistakes, while also encouraging readers to be drug and alcohol-free, stay away from guns, get an education and find employment.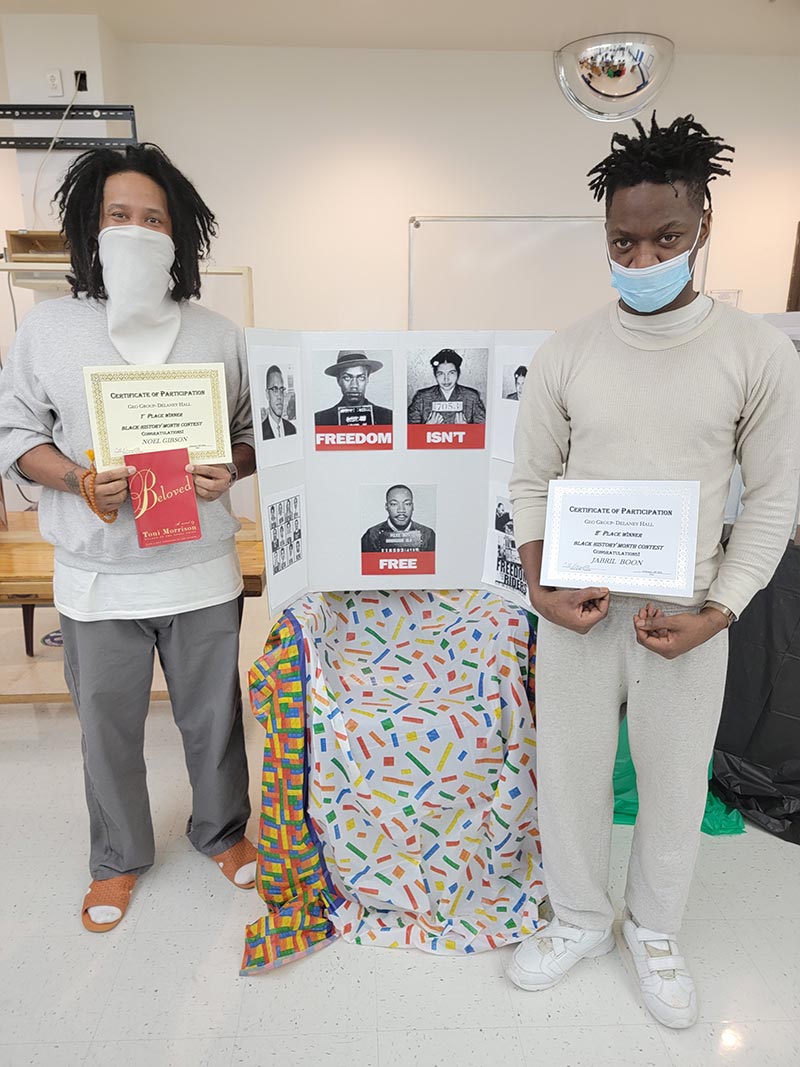 Staff reviewed each letter and selected a first and second place winner from Essex and Union counties. The 13 participating residents were invited to an awards ceremony on Feb. 23 to honor their accomplishments.
During the month, Mr. Nazareth and several Essex County residents also developed and constructed a portable "museum" of trifold displays designed to honor the Black men and women who have made significant contributions throughout history and changed society for the better.
"The Black History museum displayed an extraordinary pictorial," said Mr. Nazareth. "The achievements from the struggle for equal and fair education helped positively shape America. A diversity of caring, courageous people built a strong foundation, proving education is freedom and freedom is for everyone."
Inspirational art was another part of Delaney Hall's Black History Month. Parolee John S. shared several poems he wrote, including The Door Remains Open for You, and parolees got to watch historical films such as Selma, Harriet, Ruby Bridges and The Great Debater.
Said Unit Manager Hawkins, "it is very important for people to know their culture and history, as it helps newer generations appreciate the opportunities created for them through other people's struggles."
To cap off the month, Program Counselor Shante McLoyd hosted an educational game called "Who Am I?" where each resident chose an influential figure such as Frederick Douglas, Jesse Owens or Maya Angelou and presented facts to the audience, who had to guess their identity.
Delaney Hall's Black History Month reinforced key values such as persistence, determination and the importance of education, which staff members attempt to instill in participants throughout the program.
GEO Reentry's evidence-based programming at Delaney Hall consists of substance abuse programming, cognitive behavioral treatment, individual and group counseling, lifestyle changes, educational and GED services, and alumni/aftercare programs, and additional services that help support successful reentry into the community.