To enhance outcomes for our participants, we strive to develop positive relationships with them. Our staff members are trained to facilitate positive relationships through mutual respect and open and honest communication.
While these relationships are developed in day-to-day interactions between participants and staff at our centers — and during our programs' groups and one-on-one sessions — pro-social activities help participants connect with staff members outside of the structure of the program and allow them to practice the behavioral skills they've learned in a safe, comfortable setting. At Erie Outpatient, a non-residential reentry center in Philadelphia, staff held a holiday party with participants so they could celebrate the season with them in a fun and meaningful way.
On Dec. 22, staff and participants of Erie Outpatient enjoyed festive food and decorations and participated in ugly sweater and door decorating contests. Participants said they were grateful to be included in the holiday celebration, showing that they felt trusted, valued and accepted. To further show participants how much they're appreciated, staff brought in gifts for all of them. Additionally, the winner of the ugly sweater contest was awarded a gift card and candle from staff members.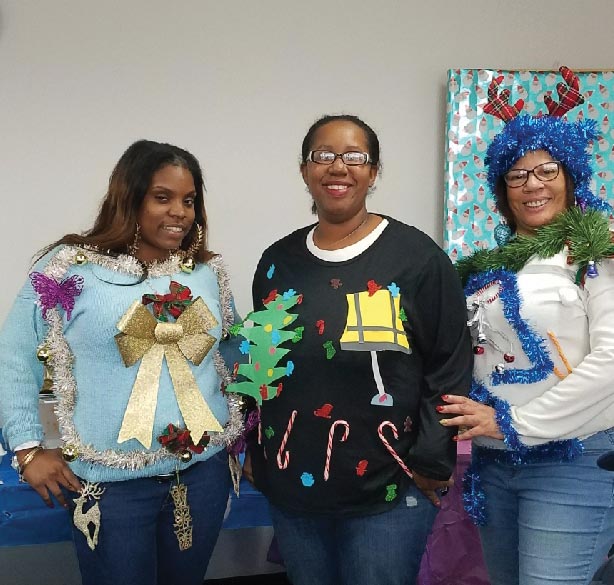 "We are proud to deliver a message of hope that recovery is possible through evidence-based reentry programming at this uplifting time of year," said Annette Garcia, the director of Erie Outpatient.
The party was a huge success, resulting in smiles on all the faces of those present. The contests were a big hit and gave everyone a chance to feel part of the festivities. Erie Outpatient exemplified the holiday season, sharing a message of unity, happiness and hope for all.
Erie Outpatient is a non-residential center that delivers outpatient services and reentry programming for individuals referred from the Pennsylvania Department of Corrections or probation and parole. The center is licensed by the Pennsylvania Department of Drug and Alcohol Programs in conjunction with Community Behavioral Health.
Read more about GEO Reentry's approach to non-residential reentry.