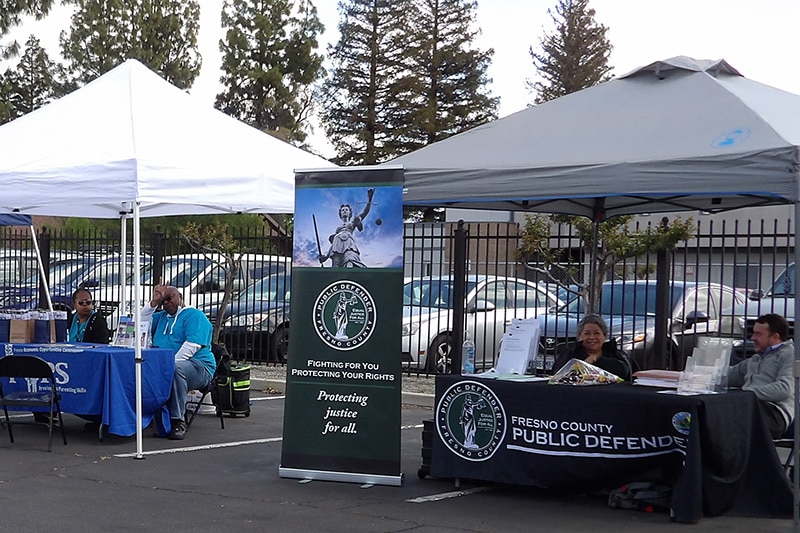 In partnership with the Fresno County Probation Department, GEO Reentry Services hosted a free resource fair for justice-involved individuals seeking information on jobs, school opportunities and other valuable resources that support successful reentry. The event was held outside the Fresno Employment Center program GEO Reentry manages for the county.
Individuals formerly involved in the justice system and their families were encouraged to dress professionally and bring several copies of their resume to the fair. Nonprofits and community-based organizations shared information with attendees and provided advice on job search strategies or feedback on resumes, including:
Fresno County Social Services helped with applications for public assistance and supportive services (Cal-WORKS, CalFresh, Medi-Cal).
Clean Slate Program provided free legal services to persons convicted of offenses in Fresno County and help with record clearance.
Workforce Connection-Fresno EOC offered youth guidance on education, training, personal development and careers.
Career Expansion shared information with individuals for construction careers.
Fresno Plumbing and Heating shared information on careers in new construction plumbing.
This event was hosted by the GEO Reentry-operated Fresno County Employment Center, which supports former offenders and those on community supervision prepare for employment. Individuals referred to the program undergo assessments for vocational skills and basic interests, then begin interventions that focuses on finding and keeping work. One of the curriculum interventions includes Cognitive Behavioral Interventions for Employment, designed for criminal- and juvenile-involved individuals who are moderate-to-high need of employment. The curriculum integrates cognitive behavioral interventions with more traditional employment approaches, teaching individuals to identify and manage high-risk situations related to obtaining and maintaining employment. Staff focus on skill building activities to assist with cognitive, social, emotional, and coping skill development for the work environment.
GEO Reentry also operated a non-residential day reporting center for the county. Both are overseen by the Fresno County Probation Department.