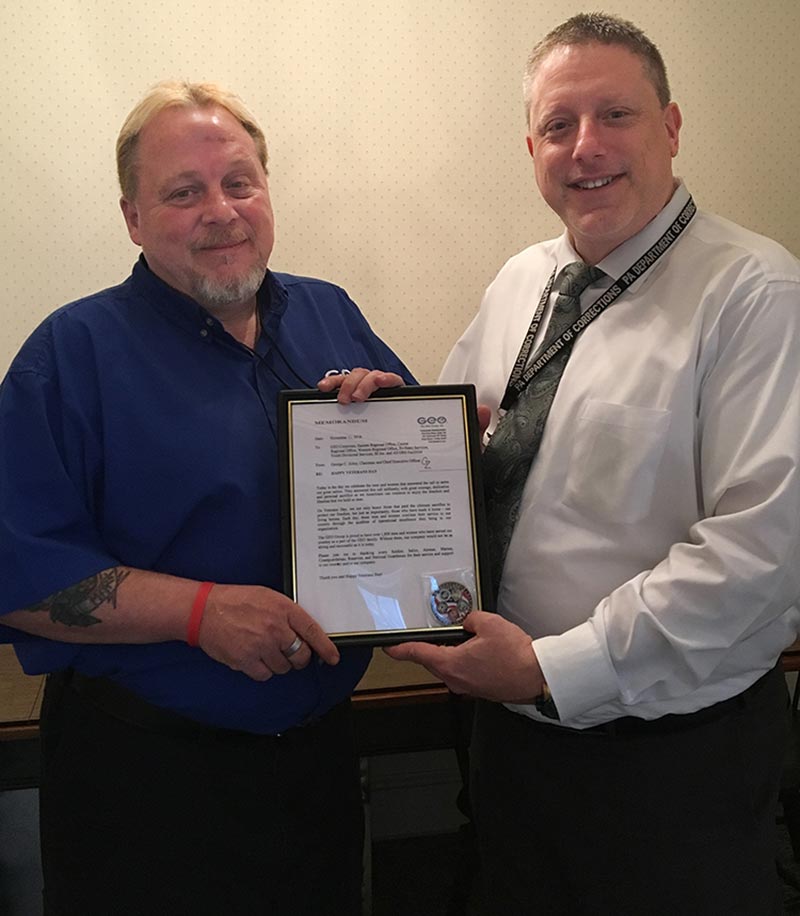 GEO Group Chairman and CEO Dr. George C. Zoley distributed a letter to each GEO Reentry center on Veterans Day recognizing veteran staff members for their service to our country.
The letter thanked veteran staff members for their courage and sacrifice, as well as their service and operational excellence to the GEO Group and GEO Reentry. In addition to the letter, Dr. Zoley sent a package of "Veteran Coins of Appreciation" to be distributed to each veteran staff member.
At the ADAPPT residential reentry center in Reading, Pennsylvania, Director Mike Critchosin was proud to thank Mark Brady, assistant director of operations, for his military service and exemplary work at ADAPPT.
Brady served in the U.S. Navy before holding various roles with the Pennsylvania Department of Corrections for 20 years. He retired as a lieutenant in May 2018 and began working at ADAPPT the following month.
"We at ADAPPT are proud to acknowledge Mark's military service, and we are honored to have him as a member of the ADAPPT team," Critchosin said.
The ADAPPT team celebrated Veterans' Day by holding a ceremony in Brady's honor. A coin of appreciation was presented to him, as well as a framed letter from Dr. Zoley.
GEO Reentry is proud to employ more than 1,800 men and women who've served in the armed forces.
Explore our blog to get latest GEO Reentry news.