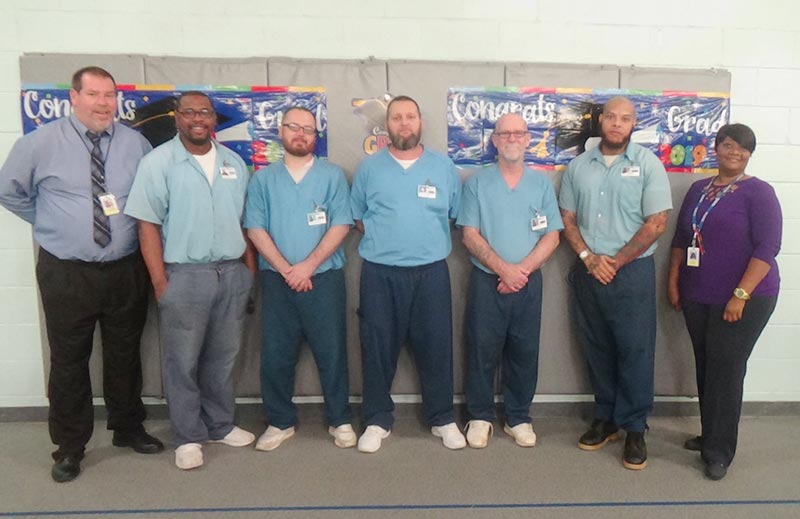 The Southwestern Illinois Correctional Center, an in-prison treatment program funded by the Illinois Department of Corrections, recently held a graduation within the facility. The event celebrated participants who successfully completed three in-custody treatment programs, including the Certified Associate Addictions Professionals (CAAP) program, which offers training for participants to become certified addictions professionals; the "InsideOut Dad" program, a fatherhood curriculum for incarcerated men; and the Seeking Safety Trauma treatment program, designed to address PTSD/Anxiety with Substance Abuse. GEO Reentry Services deliver these programs to inmates.
Warden Ron Vitale and Assistant Warden of Programs Sharlette Rodgers attended the graduation, and speakers included Assistant Director Warren Johnson, who coordinates the InsideOut Dad program; KaShena McDonald, CAAP Professional Trainer; and Clinical Manager Maggie O'Connor, who coordinates the Trauma group services. Trauma services include case management, cognitive, behavioral, and interpersonal training to address managing symptoms of anxiety and PTSD related to substance abuse.
"We are pleased to see individuals willingly engaged with the GEO Reentry programming we provide at the facility," said Lori Moore, Program Director for GEO Reentry Services at SWICC. "Staff and participants work hard to complete these programs, for changing behavior, and for the possibility of another chance."
SWICC programs focus on substance abuse treatment and family reunification at the facility. The well-regarded CAAP program provides offenders with professional skills that can be used to help others and is in accordance with Illinois Certification Board requirements. The InsideOut Dad program helps prepare participants for successfully engaging with their children upon returning home.
In addition to all GEO Reentry staff at the event, Illinois DOC counselors and staff, representatives from Treatment Alternatives for Safe Communities, educational and health care support staff, and Tim O'Boyle, Director of Alumni Services for GEO Reentry, attended. Mr. O'Boyle, a former graduate of SWICC CAAP program, now successfully leads a positive lifestyle and helps others transition to the community from GEO Reentry programs.
The SWICC Offender Band, featuring Program Coordinator Bruce Morrison and Chaplain Jason Hoffman, played some spectacular music which uplifted and enhanced the celebration. All graduates received certificates and enjoyed a day to acknowledge their hard work and accomplishment upon return to the community.