In coordination with GEO Reentry Family Services, participants in the Long Beach Male Community Reentry Program at the Long Beach Community Residential Reentry Center in California recently took part in a back-to-school backpack giveaway activity to provide school supplies for their children.
Participants completed the project in a socially distanced setting, where they filled 40 backpacks with pencils, pencil sleeves, erasers, notebooks, folders, glue sticks, crayons, construction paper, rulers, coloring books, puzzle books and hand sanitizer. All supplies were donated by GEO Reentry's Family Services program.
Participants in the Long Beach Male Community Reentry program attend structured courses designed to challenge their previous ways of thinking about fatherhood, including the InsideOut Dad program created by the National Fatherhood Initiative to connect fathers to their families. Long Beach's program curriculum was designed to break the cycle of recidivism by helping participants develop constructive fathering attitudes and skills, along with strategies to prepare them for release after incarceration.
"This is the type of 'out of the box' thinking that makes us proud of the Family Services Program in our facilities and shows that our staff is committed to family reintegration even through these challenging times," said Frank Gonzalez, GEO Reentry National Manager of Family Services. "Long Beach Community RRC staff showed initiative, creativity and confidence putting this event together in the face of the California wildfires, virtual programming, the pandemic and everything else facing our nation today."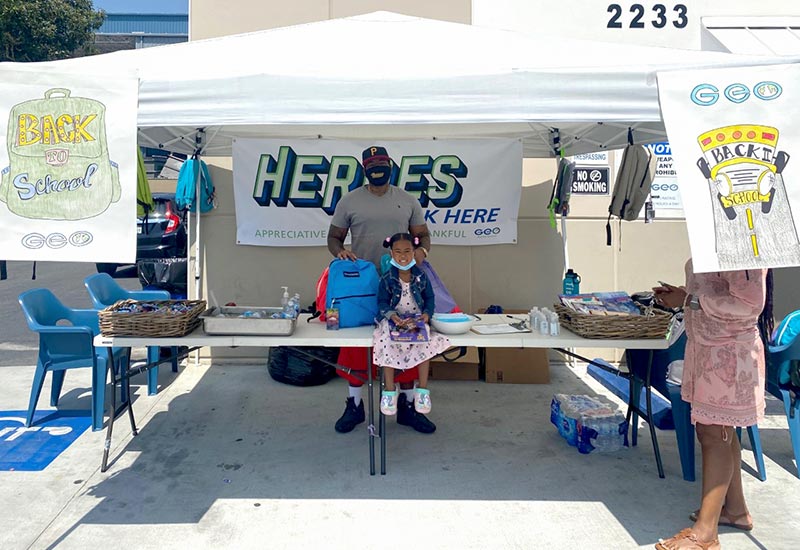 Long Beach Security Manager Tisha McAfee coordinates all the family events with participants throughout the year and organized the 2020 Back-to-School Backpack Giveaway.
"I love working with the children and believe in the importance of reunifying families," said Ms. McAfee. "I would do anything to continue that," adding that she is committed to the promise of these words from Eleanor Roosevelt: "The future belongs to those who believe in the beauty of their dreams".
David Taylor, Facility Director at Long Beach, said he is glad to help continue the legacy of successful family services events at the center.
"We are so proud to hold successful family services events that benefit our residents and support strengthening family bonds," said Mr. Taylor. "I have seen productive results from this programming, and we are very pleased to have supplied our families with extra help to start the school year off well." GEO Reentry residential reentry centers use step-down supervision to reward residents with increased freedom based on positive performance. Services offered at residential reentry centers include case management, group and individual counseling, substance abuse counseling, job-readiness training, skill development and referrals to community resources through the Community Connections program so individuals may eventually transition back into the community.