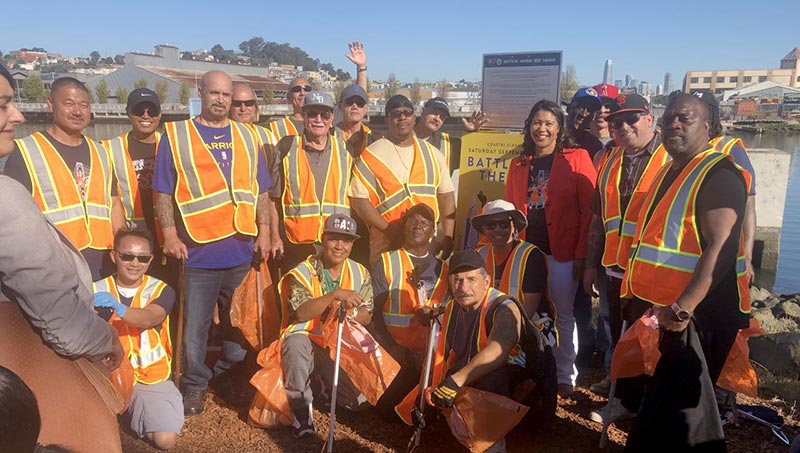 Program participants at the Taylor Street Residential Reentry Services Center in San Francisco have been stepping up to assist the local community in the fight against COVID-19.
Over the past two weeks, participants have teamed up with local youth violence prevention and youth development organization United Playaz to distribute free hand sanitizer and masks to the city's hardest-hit neighborhoods, like the Tenderloin and Bayview, San Francisco's KRON 4 news station reported.
"We feel that we're giving back to the community. We're trying to bring everybody together and keep everybody safe," Wallace Ferguson told KRON. Ferguson is a resident of the Taylor Street Center, a residential reentry center operated by GEO Reentry Services for 30 years.
The Taylor Street Center supports federal and California correctional agencies to help former inmates and parolees to reenter society successfully. In addition to providing transitional residential housing, the center provides reentry services and treatment programs such as life skills, substance abuse prevention and mental health counseling, employment, vocational and educational programs, and connections to local resources that help stabilize and transition individuals to community life. Community service, such as this volunteer effort at United Playaz, is at the core of generating positive community connections.
According to Taylor Street Program Manager Jason Carpenter, community outreach and service are important for the center's staff and participants to remain connected with the local community and focus on giving back as part of the reentry process.
United Playaz is one group with which Taylor Street program participants and staff are heavily involved. Through the group's youth mentorship program, participants engage with local kids on healthy, prosocial afterschool activities, accompany them on field trips and help with homework, while providing additional volunteer services to the group as needed.
As of April 20, San Francisco officials have recorded 1,216 confirmed COVID-19 cases and 20 deaths. A new data-tracking map of COVID-19 cases by zip code shows the Mission District with the highest number of cases, and reveals that those who test positive are more likely to be people of color and living in low-income neighborhoods.
Ferguson told KRON that there is a great need in certain neighborhoods for supplies to protect residents against COVID-19, because items like hand sanitizer are hard for people in those areas to get.
"We did the hand sanitizers and face masks in the Tenderloin areas and in Double Rock yesterday and over a thousand people showed up in the Tenderloin area for the sanitizers and face masks," Ferguson told KRON.
Last week, United Playaz and associated volunteers made the rounds to drop off sanitary supplies and personal protective equipment to residents of the city's Bay View-Hunters Point area, and this week, volunteers handed out free supplies to residents of Potrero Hill.
Over the weekend, the volunteers were joined for supply runs in Tenderloin and Bayview by San Francisco Supervisor Matt Haney, who has been a strong advocate for increased COVID-19 testing for high-risk neighborhoods.