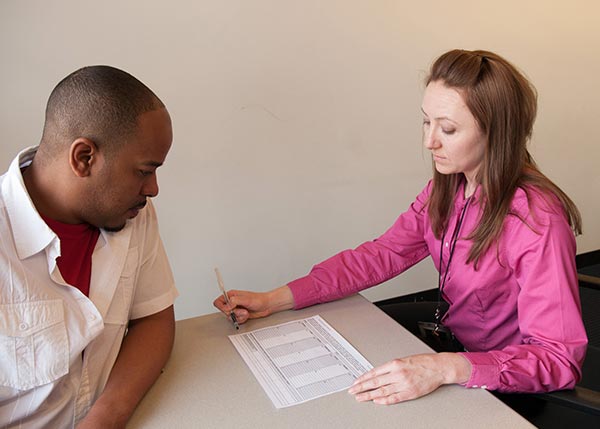 One of the core elements in evidence-based reentry programs is case management, which ensures individual progress is continually measured to ensure participant success. Case managers work closely with reentrants from intake to program completion to keep them on track at each program phase and address new needs as they come up.
There are several components to effective case management, including assessing individual risks, needs and responsivity; holding participants accountable with positive reinforcement and sanctions; and tracking progress as individuals move through different phases of the program. An effective treatment plan is dynamic and designed to evolve with the individual as they respond to treatments in their program. Case managers are tasked with understanding the different challenges each client faces so they can work individually to recommend appropriate programs or community resources to remove any barriers preventing an individual from benefitting from the comprehensive programs they are participating in.
This tailored approach to case management is considered the gold standard for successful community reintegration and has shown significant reductions in recidivism rates. For years, GEO Reentry has employed case managers with backgrounds in community corrections, social sciences and criminal justice to guide participants through the reentry process following these evidence-based guidelines to ensure participant success.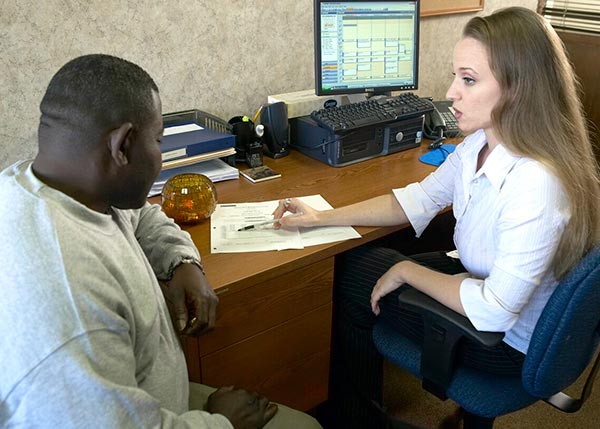 GEO Reentry case managers monitor several variables to develop effective treatment plans so individuals progress through the reentry program at an appropriate pace base on their motivation, participation and change in thinking.
Treatment programs created on an individual basis uphold a dosage model of probation, which applies case managers' assessments to determine the appropriate amount of intervention needed to reduce an offender's risk of recidivating. Over time, as that risk lowers, case managers taper the participant's program involvement, so they can stably transition back to their communities without needing continued intervention. Participants transition out of reentry programs gradually, easing the shock of changing from a highly structured routine to life in their community, where self-motivation is a driving factor for a crime-free life. Findings from the last two decades have supported the practice of extending treatment duration in community-based reentry programs, particularly those serving high-risk offenders.
During every phase of reentry, case managers work to connect participants to community resources. This ensures a continuity of care, where participants can continue to access treatment and services long after completing reentry programming. Case managers identify appropriate services like housing, substance abuse counseling, education and employment training, to ensure participants have the support they need to succeed in their reentry treatment plan.
Case management is important for keeping participants on track with GEO Reentry's evidence-based practices. Case managers measure program results and outcomes and guide participants through the different phases of reentry, ensuring program fidelity and maintaining appropriate support systems.