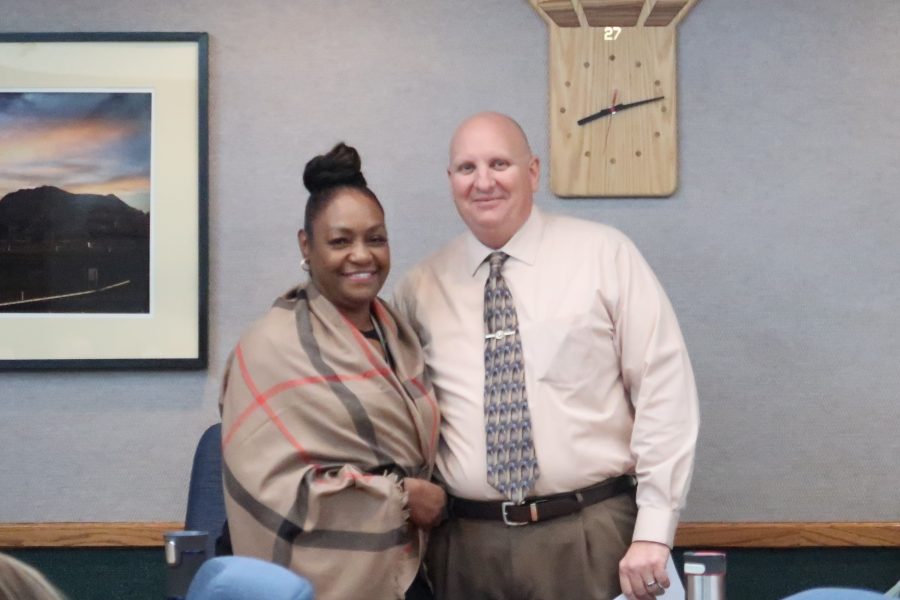 When Warden Raymond Madden of California's Centinela State Prison summoned Janice Higgins to an unscheduled leadership team meeting recently, her first thought was concern. Higgins, who works for GEO Reentry Services, is the program director for the in-prison treatment program conducted within the male-only state prison located in Imperial County.
She recalled the meeting was not on the calendar, and she racked her brain for any issues that might have come up in the program. "I could not think of any problems, but the meeting timing was unusual."
After roll call was conducted, Higgins said the Warden singled her out and asked her to step forward. But rather than raising concerns, Warden Madden proceeded to announce to the group that Higgins was being named "Employee of the Month" at the 3,500-inmate prison, the first time he had named a contractor recipient of this award.
"He really got me," Janice said. "I was very surprised, and very appreciative."
The award is just one of many surprises and high achievements Higgins has received along a life that has had some incredible lows and highs.
As program director of the Centinela State Prison's In-Prison Treatment Program, Higgins today oversees 18 staff, comprised of counselors and group facilitators who administer a wide range of groups and classes that are designed to reduce criminal thinking among some the most challenging inmates.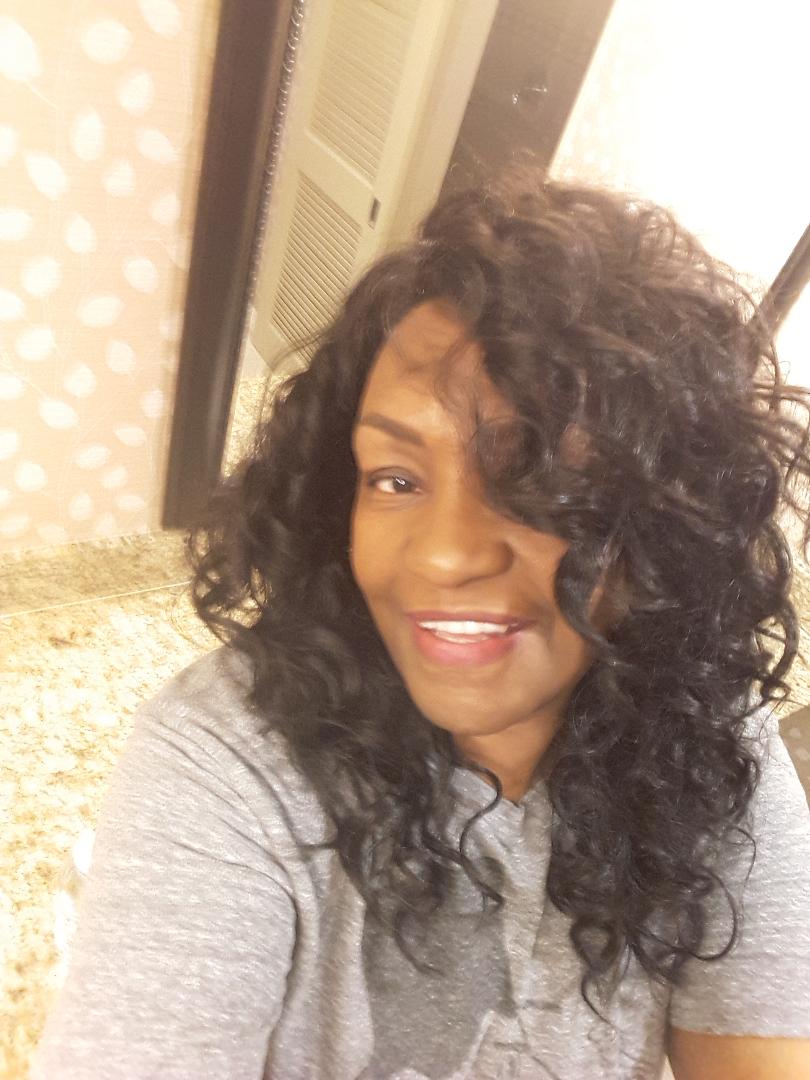 Three decades earlier, Higgins was an inmate herself at Central California Women's Facility in Chowchilla, California, having battled drug and alcohol addictions and criminal behavior.
"There comes a time when you have to decide what you want in life, and I decided, after being in prison and jail different times and losing custody of my children, that I needed to change," she said.
She took advantage of some vocational programming in the prison, participated in AA and NA groups, and began to focus on behavior change. As she cleared her head, she also began to write books focused on the perspective of children in challenging—often abusive—family situations.
When she was released, she stayed sober—29 years now, she says—and began to promote There Were No Parents Here, a book series she authored. She gained some support from her brother-in-law, former Denver Bronco running back Mike Anderson, who helped shed a light on her story, and some press attention and accolades for the books.
She also realized something she'd never been told early in her life—that education matters—and earned a bachelor's degree in Psychology. Last year, she earned a master's degree in Psychology, and she is currently working on her doctorate in the same subject area through Capella University.
Along her path of redemption, Higgins also founded Project R.A.G.E. (Release Anger & Guilt for Empowerment), a non-profit organization concerned with coaching young people and their parents on how to deal with anger and guilt through positive and empowering experiences. Even today, on her weekends, she dedicates herself to seeking out and trying to help teens in need of help through this organization.
Today, though, Higgins's primary responsibility is overseeing a program that administers treatment classes daily to almost 300 inmates who rarely have an opportunity to open up and explore how and why they do what they do.  She entered this role in August 2015, and has helped it to grow from just two classes to a program that delivers multiple tracks, including Cognitive-Behavioral Treatment, Anger Management, Family Relations, Substance Use Disorder Treatment, Denial Management, Victim Impact, Criminal Thinking, and more. Some participants are considered Long-Term Offenders, which includes individuals with sentences more than 10 years long.
"Participants tell us they enjoy being able to access this program and share in the groups, something many of these men have never done," she said. "They say being in the program feels productive, like being on the outside. And what is interesting is that program participants come from all ethnicities, so interacting in the program is unique as that rarely happens on the yards."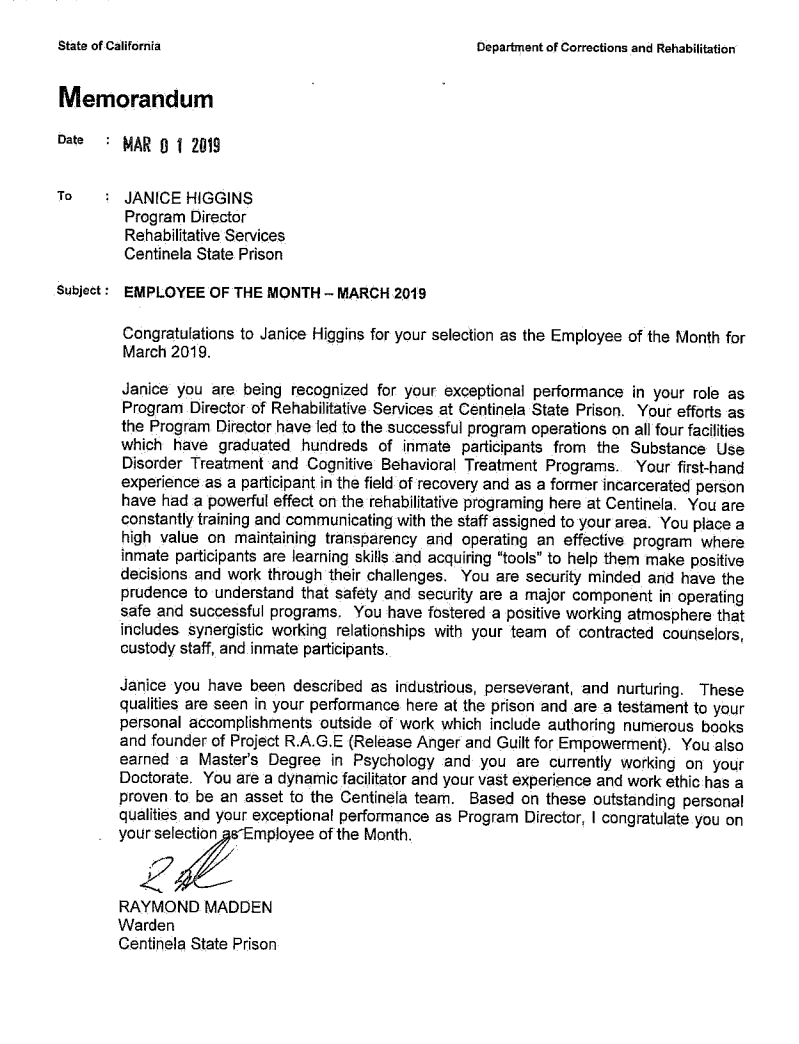 In honoring Higgins with the Employee of the Month Award, Warden Madden drafted a memorandum (left) in which he highlighted her contributions to the inmates and the prison.
"Your efforts as Program Director have led to the successful program operations on all four facilities which have graduated hundreds of inmate participants…. Your firsthand experience as a participant in the field of recovery as a former incarcerated person have had a powerful effect on the rehabilitative programming here at Centinela," he wrote
"Warden Madden is so supportive," she said. "He told me I can't go anywhere while he is working here."