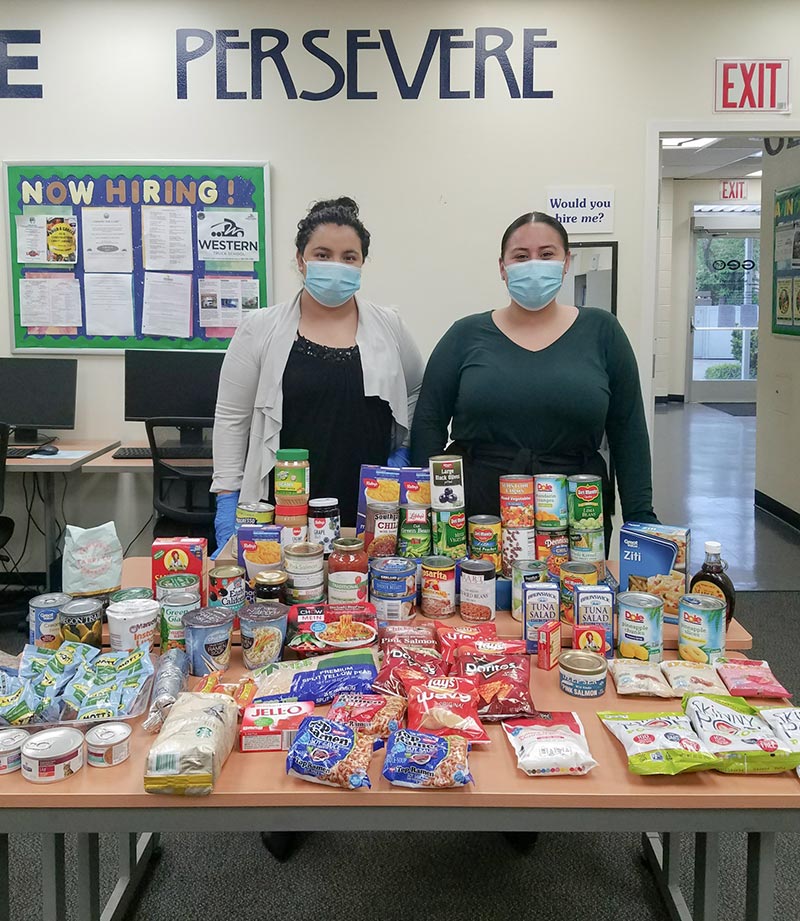 When the pandemic hit in March, some GEO Reentry Services program participants found themselves without the resources or financial means to meet their basic needs. Since then, GEO Reentry staff at non-residential reentry centers across the country have gone above and beyond to close the gap, devising new ways to provide participants with personal assistance and access to community resources.
At the Napa Community Corrections Service Center in Napa, California, Behavior Change Manager Rebeca Morales and In-Custody Coordinator Maria Chavez set up a temporary food pantry in the computer lab. Staff brought in food donations to provide a variety of meal choices, and participants could call and schedule a time to come pick up their bags of food.
Staff at the Napa CCSC, which GEO Reentry operates in partnership with Napa County Probation, also gathered clothes donations for a "clothing closet" for participants and their children.
On the east coast, the Thibodaux Day Reporting Center has initiated several new programs for the good of participants, including two tutoring initiatives.
The DRC, which is run by GEO Reentry for the Louisiana Department of Public Safety and Corrections, partnered with a new outside provider, Fletcher Technical Community College, to provide tutoring for participants enrolled in the HISet program, formerly the GED program, where an instructor comes to the center three times a week to tutor students looking to obtain their high school diplomas.
The DRC is also partnering with Nicholls State University to educate participants on financial literacy and career planning. In addition, the DRC receives donations from the local Pizza Hut twice a week through the Harvest Program, and center staff deliver those meals to participants who are unable report to the facility.
At the Harvey Day Reporting Center in Harvey, Louisiana, staff put together personal care packages for participants containing hygiene items, clothing, washcloths, feminine products and hand sanitizer, and providing packaged microwave meals for participants who were struggling to afford food.
The Harvey DRC is also helping participants keep up with their job searches; a representative from the Louisiana Workforce Commission is assisting participants in gaining access to unemployment benefits and helping others complete job applications, which in many cases, has led to gainful employment.
Individuals recently released from prison require extra guidance and assistance to gain access to the essential services they will need to reintegrate into society. One way GEO Reentry's non-residential reentry centers support participants is by linking them to those services through local organizations.
GEO Reentry's Community Connections program provides participants with information about local service providers for healthcare, family services, social services, residential treatment, mental health treatment, domestic violence aid, legal advocacy, and employment resources. Through Community Connections, participants also gain access to a resource library, on-site events and referrals from staff.
But in recent months, staff at GEO Reentry non-residential reentry centers nationwide took the initiative to develop additional, new programs to help participants access essential services, even in cases where centers were required to modify or suspend in-person services. Through compassion and innovative thinking, these GEO Reentry staff members found creative ways to help program participants hold onto the progress they had made and continue their reentry journeys.