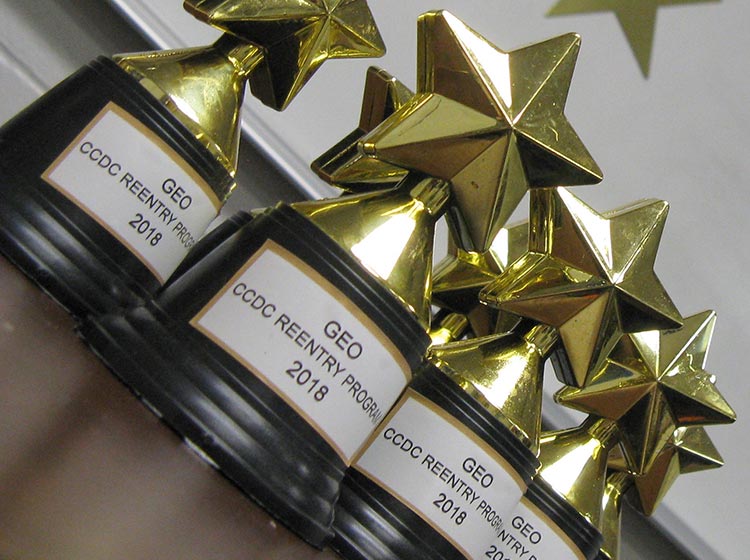 After being selected by the Las Vegas Metropolitan Police Department to open an in-prison treatment program this fall, GEO Reentry Services recently hosted its first graduation for 18 inmates who successfully completed the program. The in-prison treatment program is being delivered in the Clark County Detention Center.
To help prepare inmates for successful reentry back to the community, the reentry program was established for inmates nearing the end of their time in the detention center. The in-prison treatment program opened in September, and it serves up to 40 inmates every three months before they are released to community supervision. The Clark County Detention Center reentry program delivers:
Cognitive Behavioral Therapy, a curriculum designed to change criminal thinking and behavior
Drug and Alcohol services, including groups to help inmates stay drug and alcohol free upon release
Educational and Vocational services, including connections to local employment and school opportunities as well as strategies for gaining work or enrolling in school programs
Family Reunification and Victim Education classes to help stabilize inmates upon return home
Community Connections program, including links to supportive services for housing, medical services or additional counseling
The majority of participants in this first group demonstrated significant reductions in LSI-R assessment scores, an objective tool used to measure criminogenic risk and likelihood to recidivate. Each in-prison treatment program participant also completed a transitional plan, a detailed action plan for activities once the individual is released from incarceration.
The "Be A Star" ceremony was an uplifting event for participants, program staff and detention center staff. Participants received trophy and certificate, and many addressed the group to express their appreciation for being involved and their outlook moving forward. Attending were Captain William Teel, Captain of the Clark County Jail and Las Vegas Metro Police Department, lieutenants from the department, jail administration and GEO Reentry staff. GEO Reentry's program manager Lorin Fishman was Master of Ceremonies.
"This program has hopefully taught you that you don't have to remain in the dark sky, that words like self-discovery, change, and choice are in your control. That through this process you can shine and are learning to shine better, and brighter and clearer than before. This process gave you the opportunity and power to once again be the luminous figure in your life and to shine, to be a star," Fishman told the participants.