When the waters rose and threatened residents of Morgan County, Illinois, 11 program participants from the in-prison treatment program GEO Care operates at the nearby Jacksonville Correctional Center stepped up to help. They joined a major community effort to combat local flooding in the Jacksonville area following record rainfall this spring.  The group of inmates from the minimum-security state prison for men volunteered around the clock for several consecutive days to fill sandbags that were delivered to reinforce river banks and levees in flood-prone locations.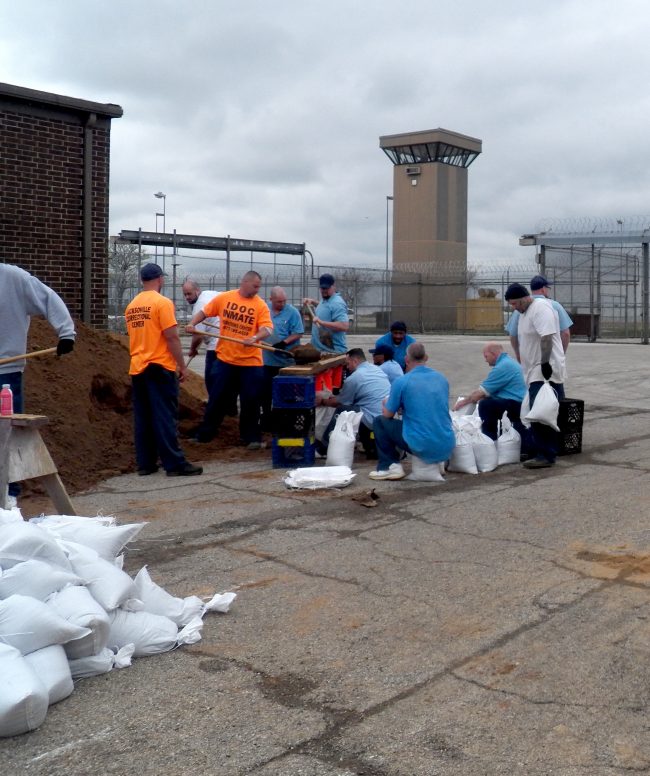 This is not the first time inmates have helped out. In addition to this year's efforts, volunteers from the center worked on sandbagging projects in 2013 and 2015. So far this year, the volunteers have packed more than 130,000 bags.
The Jacksonville Correctional Center is one of four locations in Illinois where GEO Care operates in-prison treatment programs for the state's Department of Correction. These programs are designed to prepare inmates for a successful transition to community life through cognitive behavioral treatment and additional services. Other Illinois in-prison programs are offered at the John A. Graham Correctional Center, Southwestern Illinois Correctional Center, and the Taylorville Correctional Center.
"It felt good to be able to be a part of something that was giving something back to a community," said Mark B., a Jacksonville program participant. "There was a point in my life that I took from my own community, and although I may not be able to give back to my community right now, I'm happy to have the opportunity to give back where I can."
Another participant, Malcolm F., also was proud to be part of the volunteer group. "I've always worked, and being able to go and do physical work while sober felt very good. It made me excited for what's to come for me in the next few months when I go home."
Brittany Bradshaw, GEO Care Program Director at Jacksonville Correctional Center, said she is proud of the volunteers for being part of an effort that has helped the community protect against flood damage. "It was very rewarding to see our participants working together to experience the rewards of teamwork and positive actions. We address substance abuse issues with peer-led and group activities. It is encouraging to see the participants practicing the program successfully while working with others."
Morgan County Emergency Management officials have warned residents that more flooding is possible. They say the flooding that has plagued south-central Illinois and the Jacksonville area due to heavy spring storms that have swollen rivers to exceed their capacity levels is likely to continue throughout June. If so, the participants at the Jacksonville Correctional Center are ready and willing to help again.