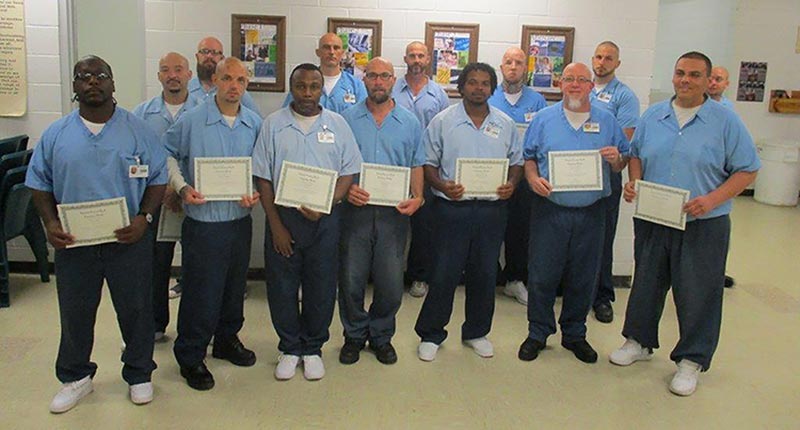 Several inmates at the Jacksonville Correctional Center, an all-male prison in Illinois, were named to GEO Reentry's Outstanding Recovery Members program. The program was part of GEO Reentry's in-prison treatment at the center and designed to celebrate National Recovery Month in September.
In-prison treatment at the Jacksonville Correctional Center is focused on substance abuse and addiction recovery. GEO Reentry's evidence-based treatment includes counseling and relapse prevention services provided in a supportive, therapeutic setting designed to foster lasting change. The Outstanding Recovery Members program was a unique to approach to substance abuse treatment that recognized a different participant each day based on where they were their recovery progress.
Participants were nominated by their peers and GEO Reentry staff, who maintain case notes on how participants have grown, excelled, and exhibited leadership and recovery skills throughout their treatment. At the end of the month, each Outstanding Recovery Member was given a certificate of achievement and photographed to commemorate the occasion.
"It is exciting to see our offenders make a positive connection with their recovery, using the tools of the programming we provide," said Brittany Bradshaw, GEO Reentry's program director at the Jacksonville Correctional Center. "Our goal is to establish change in criminal thinking patterns using cognitive-based treatment, creating individuals who practice a positive lifestyle."
Beginning substance abuse treatment prior to release fosters consistency and has been shown to reduce recidivism. The Outstanding Recovery Members program used positive reinforcement to motivate participants to stay focused and committed to their recovery.
"We have a great staff in Illinois who work hard to develop activities that encourage engagement with GEO Reentry's in-prison programming," said Melissa Weglarz, Northeast area manager for in-prison programming. "We are proud to see the program and tools we provide having a positive impact on recovery."
Learn more about our in-prison treatment.