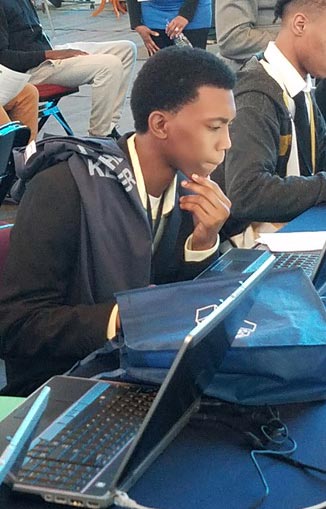 GEO Reentry's Alumni Services group consists of members who've graduated programming and volunteer their time to help current residents and other alumni successfully reenter the community. Members help others transitioning back to society with informational assistance that includes community resources where continued treatment for substance abuse and mental health services are offered, educational and vocational training, employment opportunities and housing services. In addition, Alumni Services members serve as mentors for those reentering the community and act as proof that living a positive lifestyle is attainable.
Arthur Townes, manager of Alumni Services in New Jersey, accompanied several young graduates to the Pathways to Success Opportunity Summit in Newark, New Jersey. The summit, sponsored by My Brother's Keeper and designed for young men of color between the ages of 16-29, presented attendees with vocational opportunities.
Community representatives were on hand to assist young men with establishing career goals and a plan to attain those goals. Representatives held on-site interviews and provided resume writing help, financial literacy and leadership workshops, mentoring opportunities, legal services and information on record expungement. The summit also featured celebrity guest speakers, free food, live music and even free haircuts.
"It was rewarding to see 10 of our young alumni in attendance at the summit," Townes said. "At least one of our alumni received a job offer as the result of attending the event. It was a tremendous resource, and My Brother's Keeper did a great job in presenting so many valuable opportunities to the young men."
GEO Reentry in New Jersey provides individuals with evidence-based reentry programming that focuses on cognitive behavioral training. Services offered include substance abuse treatment, counseling, family services, and educational and vocational assistance, as well as the Alumni Services program. New Jersey's Alumni Services group is an active group that regularly holds scheduled meetings, which offer alumni a chance to address current residents and share promising stories of their reentry.
"It is especially good to see lives changed at a young age after completing our reentry programming, and our members are especially pleased to support our young alumni who are interested in positive pursuits," Townes said.