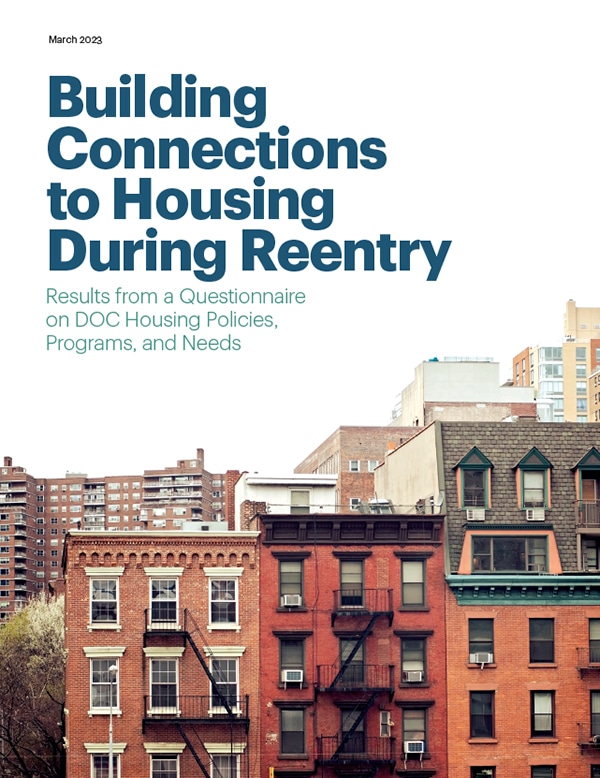 A new national report highlights how housing is critical for people formerly incarcerated, but also shows many Departments of Corrections officials are well aware of the issue and taking steps to remove this barrier to successful reentry. As GEO Reentry offices and staff are aware, securing stable, affordable housing is fundamental to successful reentry.
To help lawmakers and corrections officials build sustainable pathways to housing, Council of State Governments (CSG) Justice Center, in partnership with the U.S. Department of Justice's Office of Justice Programs' Bureau of Justice Assistance, conducted the first national survey of state Departments of Corrections reentry coordinators. Thirty-seven states, including the jurisdiction of Washington, DC, responded to the survey. CSG sought information from state DOCs as they are in a unique position to help meet this need and support individuals to connect with housing. The CSG survey was conducted in 2022, and results were released in Spring 2023.
This report summarizes the key findings and policy implications of the questionnaire related to screening and assessment, release policies, cross-system partnerships, housing programs provided and funded by DOCs, and reentry housing gaps and needs. Four key takeaways included:
Almost all the DOCs that responded currently ask individuals housing-related questions in an effort to assist them.
Three-quarters of DOCs surveyed collaborate with community-based housing providers.
Almost all DOCs surveyed stated that affordable housing is a major barrier to successful reentry.
Two-thirds of DOCS provide access to transitional housing or have partnerships in place to link individuals with housing assistance.
Read the Report: Building Connections to Housing During Reentry
The Council of State Governments Justice Center is a national nonprofit, nonpartisan organization that combines the power of a membership association, representing state officials in all three branches of government, with policy and research expertise to develop strategies that increase public safety and strengthen communities.
In nearly 100 locations nationwide, GEO Reentry Services provides supportive reentry services in partnership with state, federal and local governments. Core services offered at these reentry programs contain multi-phase evidence-based programming that includes an individualized behavior change plan to address criminogenic risks and needs; access to community resources for employment, education, housing and more; case management; and classes that encourage them to confront their beliefs and practice pro-social decision-making. Some GEO Reentry centers offer residential housing – referred to as transitional housing – while day reporting centers offer non-residential reentry services, but each of these programs maintains closes relationships and links for program participants to receive housing support.