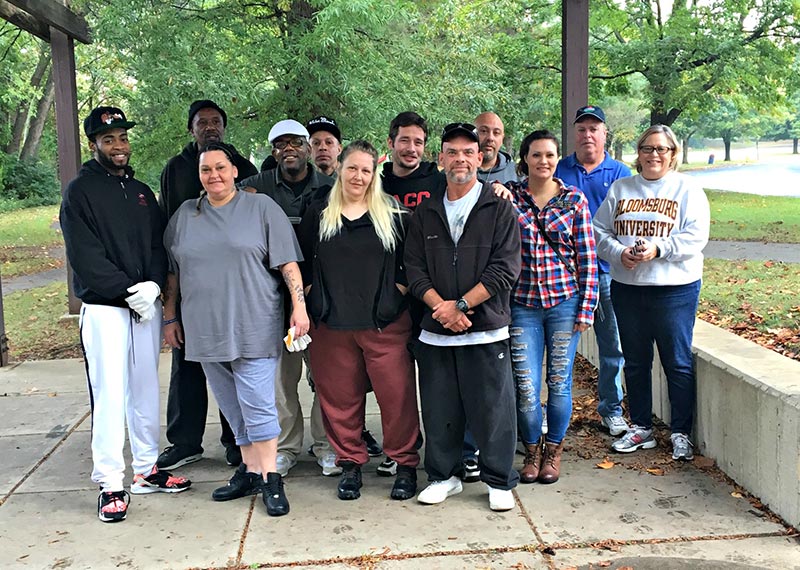 Reentrants who report to ADAPPT, a residential reentry and inpatient/outpatient drug and alcohol treatment program in Reading, Pennsylvania, recently took part in an annual citywide clean-up event to help beautify the city.
The 15-person team was assigned a sector of the city, and worked together to clear up the area from 8:30 a.m. to 1 p.m. on Oct. 14.
"We are an important part of the community, and we feel it is important to be involved and give back whenever we can continue our ongoing community service efforts with the City of Reading," Michael Critchosin, ADAPPT's facility director, said of their involvement.
Giving back to the community through volunteer work is a core component of GEO Reentry Services' reentry programming. Not only does volunteer work help reentrants foster relationships with the community, it also has a positive impact on mental and emotional health and can help instill a sense of pride and accomplishment. It's also a good way to encourage camaraderie amongst reentrants and staff members.
ADAPPT, which is funded by the Pennsylvania Department of Corrections, has been a member of the Reading community for 22 years, offering structured programming, counseling and services with a focus on substance abuse treatment, education and changing criminal behaviors.
The program, formerly owned by Community Education Centers before CEC merged with GEO Reentry, provides an inpatient chemical dependency program that is comprehensive in scope, including an initial assessment, personalized treatment programs, and individual and group counseling. Programs and service components include state intermediate punishment, outpatient alcohol and drug services, group home, veterans' services and day reporting.
For information about residential reentry programming through GEO Reentry, visit this page.