Eight residents at Tully House Residential Reentry Center who passed their high school equivalency exams this year received their diplomas at a recent graduation ceremony to honor their achievements.
The outdoor ceremony at the Newark, New Jersey center, which is operated by GEO Reentry Services, was a momentous occasion for the graduates, even though families were not allowed to attend due to the pandemic. Residents had gotten the chance to take the High School Equivalency Test, or HiSET exam, to earn their high school equivalency degree through the GEO Reentry Services Education Department and Education and Health Centers of America, for which GEO Reentry is the service provider at Tully House.
Tully House Senior Coordinator Paula Lord opened the ceremony by welcoming attendees, followed by EHCA Deputy Director of Program Services Ronald Morrison, who urged the graduates to never stop learning and stay informed about happenings in their community, state and country; he also gave each graduate an Amazon gift card for the purchase of a novel.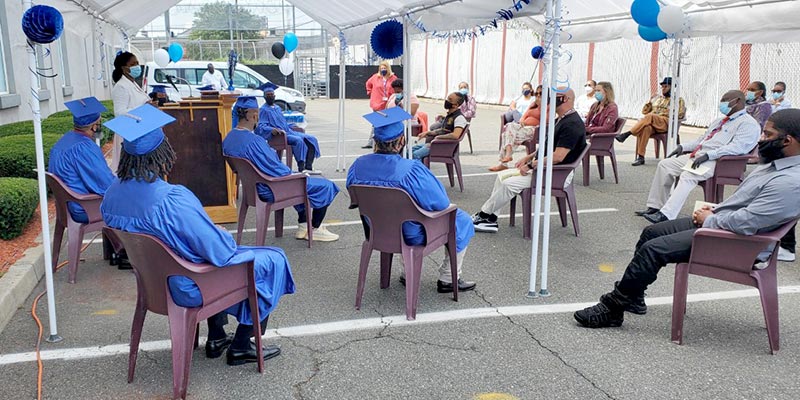 Tully House Unit Manager Geraldine Morgan also spoke to the graduates, offering a message of perseverance and encouraging them never to give up on their goals but also be strong enough to ask family or counselors for help.
Education Manager Samantha Brooks, the Tully House staff member who helped residents prepare to take the test, used her time to emphasize the opportunities residents would have now that they were high school graduates, in a reminder that this ceremony is just the beginning of their journey.
"You do not have to be defined by your past, but you can be known for doing great things, for moving forward for your children, your family and community," said Brooks. "Whatever your journey is once you leave Tully House, let it be positive, let it be inspirational and believe in yourself as I believe in you."
At the ceremony's conclusion, Tully House Program Counselor Manuel Rosa presented graduates with their diplomas, officially pronouncing them the graduating Class of 2020.
As part of its residential reentry program, Tully House offers a range of enriching educational activities and amenities for residents, including recreation opportunities, library access, organized community outings, religious services and a music program, all of which allow them to engage in prosocial learning in a creative way.
Other programs and services offered at Tully House include substance abuse programming, individual and group counseling, psycho-educational and cognitive restructuring, domestic violence, parenting skills, 12-step meetings, relapse prevention, educational training, vocational training and job placement, anger management and alumni and aftercare programs.