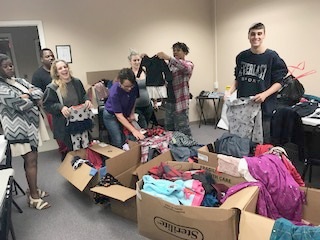 Two GEO Reentry day reporting centers in Louisiana are benefiting from a partnership with a local retail chain that is helping participants access new clothing, shoes and accessories. The partnership, set up between the Covington Day Reporting Center and their local Target, allows staff to obtain donation boxes each week from the store, which staff members then distribute to participants, including participants from the Baton Rouge Day Reporting Center.
GEO Reentry strives to help participants and their families find resources to meet their basic needs, and the donations will help participants and their families with clothing assistance. GEO Reentry's programs also teach participants employment readiness and life skills for use during real-world situations such as job interviews, parent-teacher conferences and volunteer work. The donations will help participants dress professionally during these situations as well.
The partnership has been particularly helpful for some participants, including one Covington DRC participant who arrived at the center with no more than the clothing she was wearing. The participant was able to receive a bag filled with new clothes and two new pairs of shoes thanks to the donations.
In addition to participants, other community members are benefitting as well. After participants have chosen their own items they would like to keep, the rest of the clothing is donated to NAMI's Closet, which provides free clothing to people in need.
Find out what other GEO Reentry centers have been up to in our blog feed.
Read more about GEO Reentry's approach to non-residential reentry.