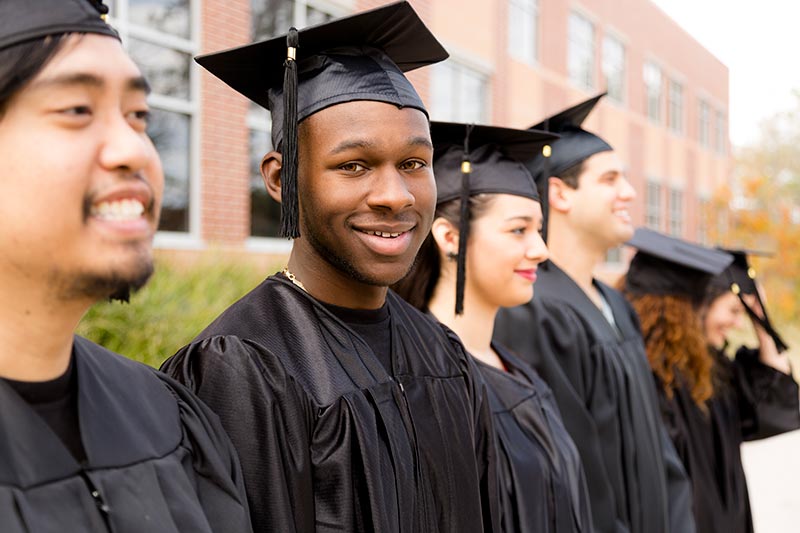 In accordance with its mission to help the formerly incarcerated restart their lives, the Santa Ana Day Reporting Center in Santa Ana, California regularly collaborates with Santa Ana College and other local universities to refer reentry program participants to educational resources in the community.
Community Connections: Connecting Participants to Local Resources
Part of Garo Donabedian's work as the Santa Ana DRC's Job Developer is to nurture relationships with colleges, businesses and organizations in the local community so that he can inform participants about the educational, health services and employment opportunities available to them.
"At the DRC, we have our Community Connections meetings on a monthly basis, and Anthony Garcia from Santa Ana College comes in once a month, along with representatives from other community colleges, to provide participants with information about educational opportunities," Donabedian said. Community Connections involves hosting community service partners, such as the college, to share and present information with DRC participants.
Garcia, who works in Santa Ana College's academic administration department, has been visiting local non-residential reentry centers — the day reporting centers run by GEO Reentry Services — to recruit new students since 2014.
"Participants we meet have parole or probation conditions they need to fulfill, but, fortunately, education is one of them, so we can be a key component in helping them achieve that goal," said Garcia. "This, in turn, helps them with their other goals as well, like employment. We're basically trying to get that parolee or probationer job-ready to go out into the workforce and start their life over again relatively quickly."
Programming and Enrollment Incentives at Santa Ana College (and More)
As a community college funded by the state, Santa Ana College offers a range of free educational programming for all kinds of students, including GED prep, college readiness, trade school classes and continuing education. Courses and certification programs include information technology, computers, construction technology, education, business, child development, media studies and more. SAC students can learn a new trade without having to pay tuition, said Donabedian, opening the door to careers like mechanic, computer repair technician, contractor, machinist or pharmacy technician.
The Santa Ana DRC also works on student referrals with Santiago Canyon College's Project RISE, which lets the recently incarcerated attend classes for free and offers access to free counseling, and with California State University, Fullerton, which offers a similar program for the formerly incarcerated called Project Rebound.
"There are so many different opportunities available through these colleges," Donabedian said. "We have a participant right now who came into the program with a substance abuse problem, and after getting clean he decided he wanted to do counseling. So now he is going to Santa Ana College to learn to be a substance abuse counselor."
In addition to being free of charge, Santa Ana College is different from other college programs in that students can enroll any time through throughout the semester; the only requirement is students need to be over 18. The school also offers incentives for the formerly incarcerated including free childcare and a free bus pass, said Garcia, as well as priority registration and class choice.
"We're finding that we're getting a lot of clients who have already gone to college or who are working on a degree that they started while they were incarcerated. Or they may have gone to college prior to being in prison and just want to finish their degree," Garcia said. "We're really a school of continuing education."
Santa Ana College is also used to accommodating students who need permission from their parole officer to travel to attend classes, added Garcia.
Supporting Student Referrals at the Santa Ana DRC
"This program meets participants' needs and allows us to communicate directly with their parole officers to show them they are on the right path," said Garcia. "We get a lot of our students from GEO Reentry programs, but we also try to reach out to entire record-friendly community, including homeless day centers. I love going out in the community and making connections. I look primarily for the nontraditional student — the person who would probably never consider going to school — and opening a door for them."
In addition to the Santa Ana DRC, Santa Ana College also collaborates with two other day reporting centers in Orange County: the Orange County DRC, also in Santa Ana, and the West Orange County DRC in Westminster, California, said Garcia.
Santa Ana DRC Program Manager Yadira De Santiago first connected with Garcia at a local PACT (Parole and Community Team) meeting back in 2014. Organized by the California Department of Corrections and Rehabilitation's Division of Parole Operations, PACT is a monthly mandatory meeting for parolees where community-based organizations are invited to present on the services they offer.
Since the Santa Ana DRC began partnering with local universities to refer new students, De Santiago said she has seen participants go on to finish their paralegal studies, get their associates degrees, enroll in continuing education courses, start working toward their GEDs and more.
"I truly believe that ongoing community engagement and support helps reduce recidivism, as we are all working together to help every individual succeed," De Santiago said. "The Santa Ana DRC's connection with local universities gives our participants a sense of being purposeful in their communities and growing their education. It's a pleasure to work alongside people like Anthony and Garo who are committed and passionate about helping others succeed."