The Harbor in Newark, New Jersey, recently held an uplifting ceremony celebrating seven residents who received their high school equivalency degrees in June. After months of hard work and study to pass the test at this New Jersey residential reentry center, residents received their diploma in front of a large crowd of guests, staff and fellow residents. With diploma in hand, residents can now further their education, secure employment and enjoy the rewards of a positive accomplishment.
The Harbor, operated by GEO Reentry Services, provides residential reentry programming for individuals referred from the New Jersey Department of Corrections. GEO Reentry provides a full program of evidence-based reentry services at the Harbor through its contract with Education and Health Centers of America.
"It is inspiring to attend commencement celebrations and be a part of the good work provided by staff at our facilities," said Richard McCourt, senior area manager of the northeast region for GEO Reentry Services. "We have seen many lives change by achieving educational goals, using the programming provided here."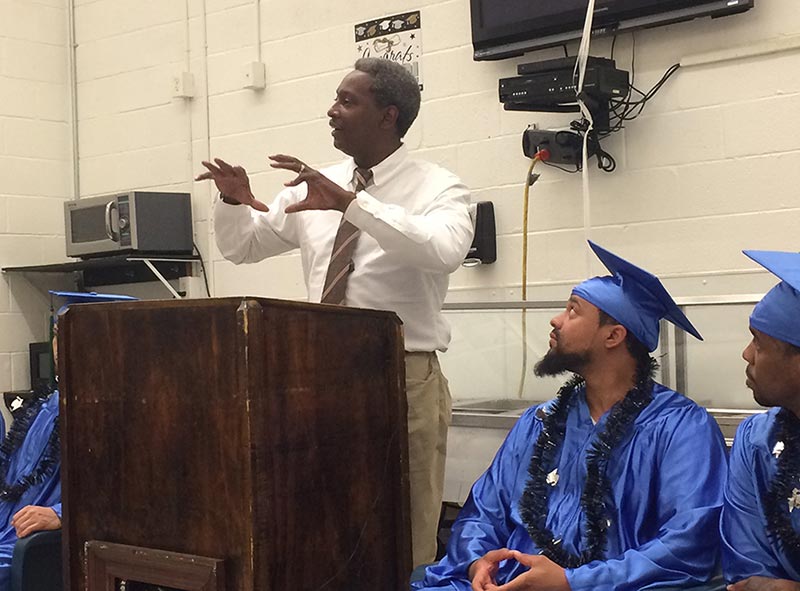 Arthur Townes, New Jersey director of Alumni Services, served as the commencement speaker, reminding the crowd about the significance of this important milestone in the residents' lives, as they accepted their diploma and entered a new stage.
"You have raised the bar on your life," Mr. Townes said. "Step into your greatness."
Thanks were extended to all supportive staff including Fredis Yanes, teacher; Raven Barnes, unit manager; and Sharon Brooks, facility coordinator, as well as teacher's aides for their hard work and unending support for the graduates.
"Education is so important," Ms. Brooks said. "Be proud of your accomplishment and recognize the doors that this can open for you. Don't stop here, keep going and pursue your goals."
Mr. Yanes complimented the group by acknowledging their willingness to learn, ask questions and be prepared. Some studied for months and Mr. Yanes hopes their determination to accomplish their goals will continue when leaving the facility.
The Harbor held its first graduation celebration on April 23, 2013 and is proud to continue the tradition of helping residents earn their degrees. The staff is committed to providing the best educational programming that is a gateway to new opportunities and a positive lifestyle upon program completion.
Read more about GEO Reentry's approach to residential reentry.