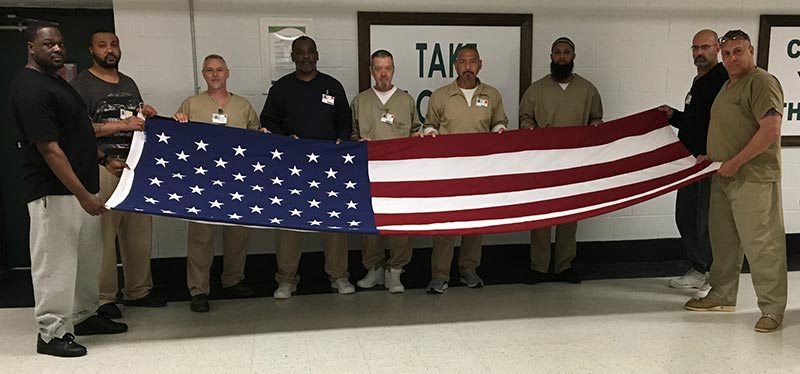 Veteran residents at Talbot Hall, a residential reentry center in Kearny, New Jersey, celebrated Memorial Day 2018 with a special ceremony for the center's 10 veterans. Talbot Hall is an assessment and treatment center that accommodates male residents referred from the New Jersey Department of Corrections. GEO Care provides a full program of evidence-based reentry treatment services at Talbot Hall through its contract with Education and Health Centers of America.
The Memorial Day ceremony was coordinated by GinaMarie Di Maiuta, the Deputy Director of Talbot Hall. The ceremony included folding the flag and a moment of remembrance. After lunch, the veterans were able to select a movie of their choice and were treated to festive desserts, cupcakes and coffee.
"Veterans have challenges that are specific to their reentry experience," Di Maiuta said. "We provide a group setting for veterans to share with one another as an additional service in their reentry programming. Veterans receive information on community resources that is unique to their situation, helping support a successful return to the community."
Talbot Hall hosts a weekly session specifically for its resident veterans. The veterans also meet on a voluntary basis to address issues relative to those who have served in the military. The group supports each other through the reentry process and has an opportunity to share resources that will be helpful when reentering the community. Resources may include help finding employment and educational opportunities, homelessness assistance and connections to critical benefits. The veterans were extremely pleased to have been acknowledged for their service in accordance with the Memorial Day holiday.
"We are very proud to honor those who served our country," Richard McCourt, GEO Reentry's northeast senior area manager, said. "We have many staff and residents who are current and former members of the United States Armed Forces, and I am proud to work for a company that employs veterans and provides helpful services for our resident veterans."
Talbot Hall focuses on assessing residents for the New Jersey Department of Corrections prior to their transfer to halfway houses and eventual reintegration into the community. Residents are given individual treatment plans based on "What Works" research proven to rehabilitate offenders and reduce recidivism.
Read more about GEO Reentry's approach to residential reentry.